All dates for our Social Dances have been suspended until further notice. Check back for updates.
Your whole family is welcome at our monthly Dementia Friendly Social Dances, presented in partnership with Alzheimer Scotland. Dance the afternoon away, then reminisce about the old dance halls over tea and cake.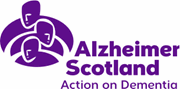 Don't worry if you have no one to come along with – our 'Will ye dance wi' me?' scheme will partner you with one of our volunteers!
For more information please contact Kate Stevens at kate@beaconartscentre.co.uk